Your kitchen is a key selling point to your home. With the cost of a new kitchen running into the thousands, how your kitchen is presented can make or break a sale.  With autumn really truly upon us and our days growing grey and dreary, staging your kitchen for sale at this time of year is about adding warmth, inviting colours and textures.  Why wouldn't you want your home in Chelmsford to stand out? Check out 10 ways your kitchen can cosy up to buyers.
Warm with textiles
Textiles are not something you may think about when looking to stage your kitchen for sale, but they are a gorgeous way to weave in some warmth and style.  Introduce textured pillows, throws and table linens where appropriate, using a rich autumnal palette; juxtapose this with smooth surfaces and raw textures.
Add pops of colour
As you know, when staging your home it's important to use more neutral tones. That being said, it's always fun to add pops of colour in your kitchen.  Painting an accent wall will be too overpowering, so use a piece of art or even paint a piece of furniture focusing on deep reds, warm oranges or olive tones.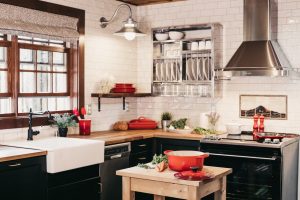 Introduce soft details
Soft details, such as fresh fruit, can bring life into your kitchen.  The best way to introduce fruit is with a large bowl or vase filled with a mixture of lemons or limes.  You may decide that you would prefer to present them separately ­– whatever you decide, they are a great and easy way of adding a touch of freshness to your kitchen.
Kick out the clutter
Marie Kondo has kicked our clutter into touch, making this the year that many of us discovered how to 'tidy up' in a revolutionary way.  Clutter does nothing for a kitchen, it makes it feel small and disorganised, so it's essential to clear all your work surfaces and ensure that everything has a place.  Don't think your cupboards are a no-go zone, as nosy buyers are bound to take a look inside.
The pantry look
The pantry look has been a growing trend this year, one which you won't have missed if you like a home and interiors magazine or two.  What do we mean? The look is created by placing items such as dry pasta, rice and cereals in labelled jars, with baskets used to store similar items, making storage not only functional but beautiful too.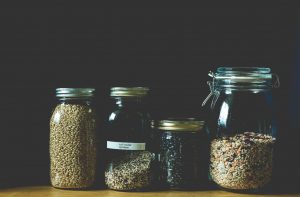 Create life
The rise in the sale of houseplants has been significant this year and they are a great go-to decoration.  Whether you choose to create a small herb garden so you have easy access to your favourites, or opt for some easy to care for succulents, adding a houseplant is a must for your Chelmsford kitchen this autumn.
Hinch it!
Marie Kondo may be the queen of tidying, but when it comes to cleaning you need to take a few ideas for Mrs Hinch herself.  You want your kitchen to sparkle – no appliance or corner must be neglected, as buyers have sharp eyes and tend to notice things that others miss.
Make a scene
A kitchen is the heart of the home, as it is a space we often spend a lot of our time. One way to add a touch of cosiness to win over buyers is to create a tempting vignette or two.  For example, you could put together a bread board with a loaf of rustic bread and a bread knife.  Trays are perfect for vignettes, a cafetière with coffee, a couple of cups and a small jug of milk will not only set the scene, but also the smell of coffee will be incredibly inviting to buyers.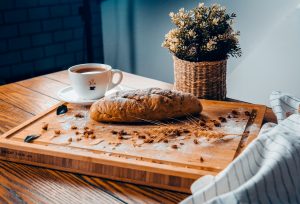 Cosy not dark
You need to make sure your kitchen is well lit, as dark days can drain your efforts and you don't want all your hard work to go to waste.  As well as your main lights, let our team at Charles David Casson know where any additional or counter light switches are placed so we can ensure that we make your kitchen shine for every viewing.
Speaking of scents
Viewing a property isn't just about the things buyers can see, it's a sensory experience.  They will also be taking into account what they can hear, smell, touch and possibly taste (if you leave them a treat to sample).  Therefore, when you are preparing your kitchen for sale don't just focus on what you can see, as you may be missing a trick to win your buyers' hearts.
At Charles David Casson we believe that when your kitchen provides a cosy experience for buyers they are likely to want to spend more time there.  The longer they are in your home, the more likely they are to start seeing how they could make it their own.  For more advice on how to prepare your home for sale, contact our sales team on 01245 835859.