The race for the Christmas number one has begun, the stores are bursting with glitter and sparkles, and all over Chelmsford people have begun to put up their Christmas trees.  Where in your home you place your tree is something many consider when viewing a property for the first time.  This season is all about family, warmth and love – all the feelings you wish to experience when you find that perfect place.  Christmas is all about traditions, and how you decorate your tree could be one of them.  Just as you have your own preferences, across the world Christmas trees are decorated in many different ways – maybe one of these traditions could inspire your creation this year?
Etiquette
You could be a rule breaker, or someone who prefers to leave it to the last minute before a piece of tinsel decorates your home, but what's the etiquette?  With some psychologists believing that putting your decorations up early can actually make you happier, it's no wonder that we have seen the twinkles of lights shining up and down the streets of Chelmsford.  Traditionalists suggest that the first day of advent is when you should decorate, which is the fourth Sunday before Christmas.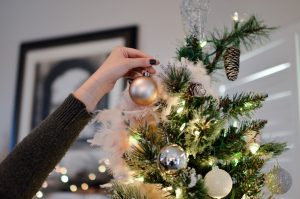 If you're thinking of holding off because you wish to have a real tree, you may be surprised to learn that the beginning of December is the recommended time for making that purchase, according to the British Christmas Tree Growers Association.  They advise that if you look after your tree, it should last four weeks or more.  At Charles David Casson we are full of festive spirit, whether you're in the process of selling your home or not, we believe there's no time like the present to decorate your home.
Pop around the tree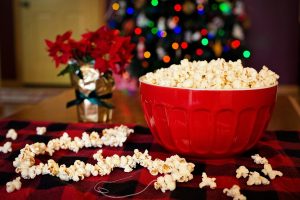 If you have ever watched a US Christmas movie that includes a decorating the tree scene, you will have no doubt seen people placing strings of popcorn like tinsel around the tree.  The tradition was very popular in the 1950s and '60s, and many families continue the tradition today – what a fun way to get your kids involved as well as enjoying a treat as you decorate.
Fruity offerings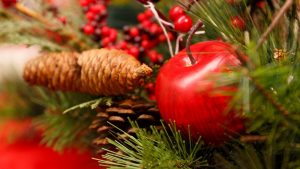 In France you will often see red glass apple decorations adorning Christmas trees.  It is said that, centuries ago, real red apples were used but after a bad harvest one year, they were replaced by glass alternatives.
Starry night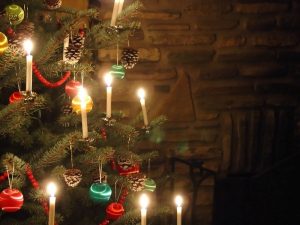 Some traditions have had to be modified over the years, such as the German practice of having real candles on a Christmas tree.  The legend states that candles were first used to decorate a tree in the 16th century by Protestant reformer Martin Luther to recreate a starry night. The effect is beautiful, and could be recreated with LED candles.
Holly and the spider
The last thing you would associate with Christmas are spiders, especially if you're an arachnophobe, yet over in Ukraine, you will find their Christmas trees decorated with spiderwebs, as they are said to bring good luck.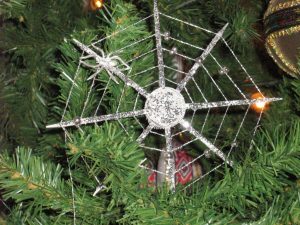 The legend behind this strange decoration begins with a poor widow and her children living in a cramped hut with a pine tree outside.  One day, a pine cone falls to the ground and starts to grow – the children were excited about the prospect of having a tree for Christmas.  By Christmas Eve it was strong enough to bring inside their home, but they didn't have any money to decorate it.  As they slept, spiders came along and spun elegant and beautiful webs over the tree.  The next day, the family found their tree full of silky patterns and, as the sunlight hit the spiders' creations, it turned them silver and gold.  With luck like this, maybe you'll try having a web decorating your tree this year.
Deck the halls with geometry
Geometry is a trend that has been favoured in home interiors in recent years, but did you know that in Finland, it's also a favourite for Christmas tree decorations?  "By looking at the shadows the himmeli is casting, you remember the transience of life, and by looking at the himmeli itself, you remember heaven." Finnish proverb.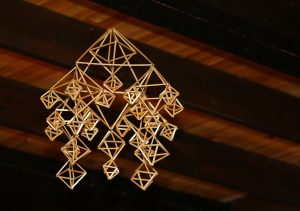 Himmeli is a geometrical decoration traditionally made from rye straw. The word means 'heaven' in Finnish, and is thought to bring luck, protection and a good harvest. Today you can find them in UK stores made from copper and gold, they're a stylish addition to any tree.
Heart Christmas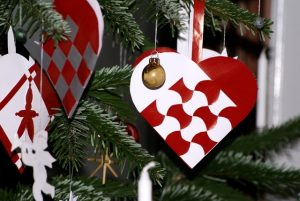 Why not follow in the tradition of the Danish this year, and make some of your own decorations? With so much commercialism you could be feeling that we've forgotten the simple things, creating some of these Julehjerter is the ideal Christmas therapy.  Julehjerter are homemade Christmas hearts made from plaiting and pleating red and white paper into a heart shape.  The earliest known example of these can be found in the Hans Christian Andersen Museum in Odense, which were made by his own hands.
Moving home for Christmas
What we love about this time of year is seeing how everybody has decorated their homes – no two creations are the same.  There is something about the season that brings out nostalgia, and we love hearing your stories about the years you've enjoyed in the home you love – or loved.  Moving home at any time isn't easy, if you're moving this Christmas or in the New Year, rest assured that we will have everything covered.  Should you be considering a move, our team of sales elves are awaiting your call, give us a bell on 01245 835859.